Akihabara Electric City Live Street Cam 24/7 with LiveShell X
Aisan Electric Co. Ltd.
"Akihabara Live Camera", live street cam from Chuo-dori intersection in Akihabara Electric City 24/7.
Cerevo's live streaming products have been evolving for over a decade with people seeking high-quality live streaming in more than 85 countries and areas of the world.
This time, we will introduce the distribution configuration of "Akihabara Live Camera", operated by Cerevo and Aisan Electric Co., Ltd., live street cam from Chuo-dori intersection in Akihabara Electric City 24/7.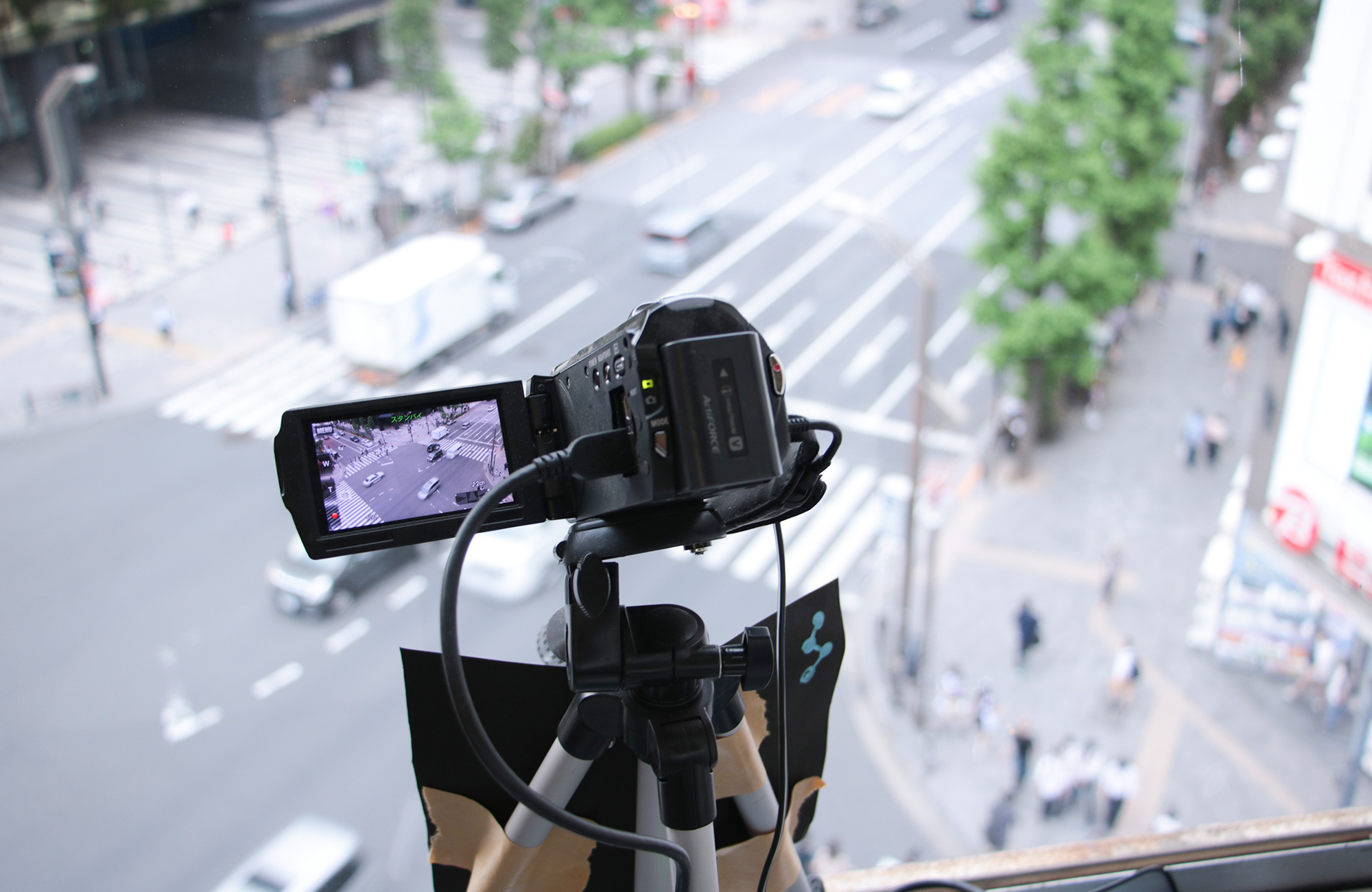 Since 2011 live streaming from Akihabara 24/7
Akihabara Live Camera is a 24/7 live street cam from Chuo-dori street crossing at the Aisan Electric Building located at the heart of world famous electric city Akihabara. Since 1949 Aisan Electric is one of the pioneers to fulfill needs from professional audio visual and network equipment, optical fibers and more.
Since 2011 Aisan Electric has been doing Akihabara Live Camera collaborating with Cerevo live streaming products starting LiveShell, then LiveShell PRO, LiveWedge and currently LiveShell X. The viewers are not only from Japan but also from around the globe. The viewership is noticeably increased especially when a big typhoon or heavy snow storm hits Tokyo.
Currently, the live cam is fixed point with a single video camera. The video camera audio is muted from the Dashboard and the music is set to play to prevent unintended sound is broadcasted.
Because YouTube Live does not support archive movies more than continuous 12 hours length and stops the broadcasting when YouTube recognizes a live stream breaks a few seconds, no library is available. But a viewer can reply and watch the traffic during day and night unless the live cam continuously streams the images.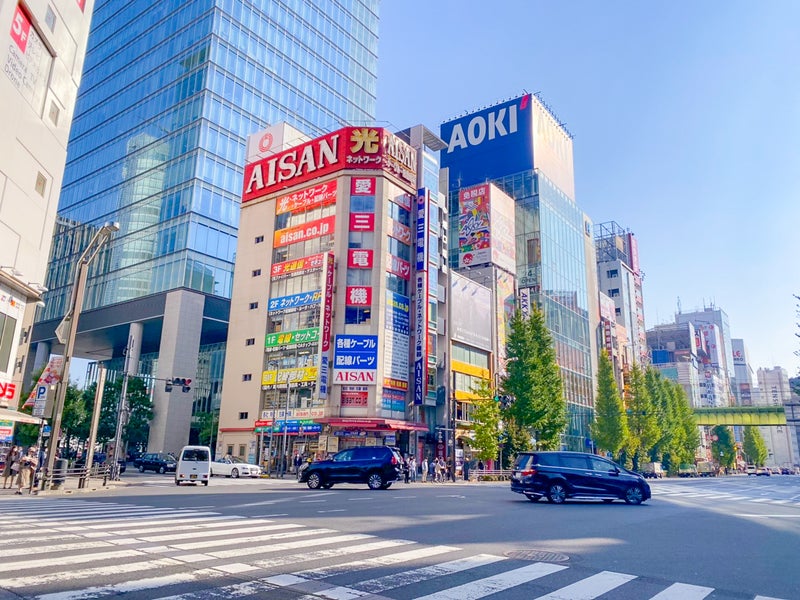 Hassle-free with automatic streaming settings, recover remotely in case of emergency
Akihabara Live Camera is streaming from the 6th floor of the Aisan Building aiming down to the street. Once the setup is completed, no additional operation is required during the live streaming.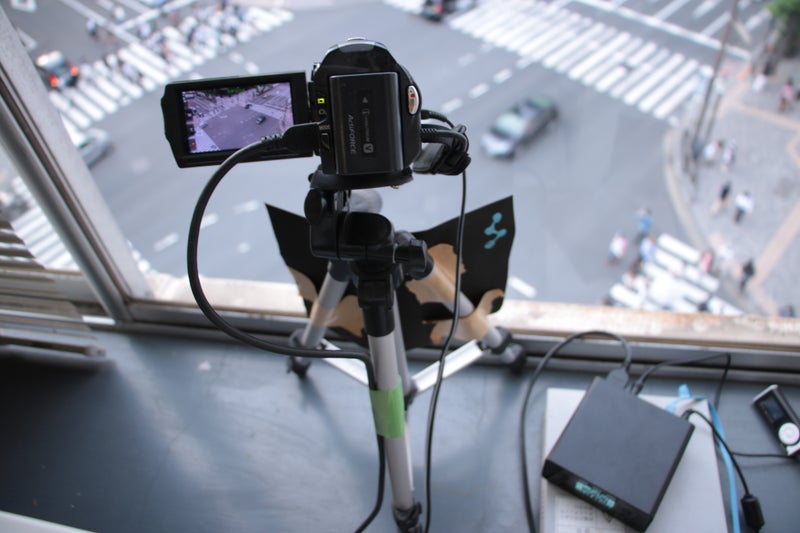 Akihabara Live Camera is composed of a simple configuration; one video camera (camcorder), one LiveShell X connected Ethernet. In addition, a MP3 Player is used for the audio input to play background music.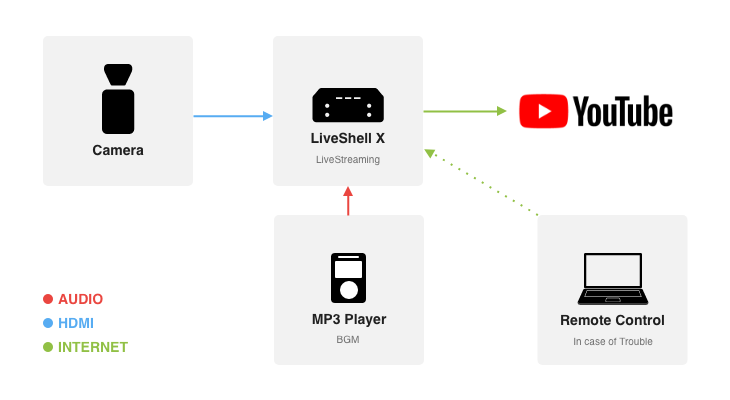 For Akihabara Live Camera, we also prepared the following two settings on the LiveShell X in advance.
1. Auto boot setting
This function allows LiveShell X to automatically boot when the power is plugged in without physically pressing the unit power button. For the case of Aisan Electronics live street cam, the battery is already removed so that the power goes off when the AC is detached from the power source.
2. Auto streaming start setting
This function allows LiveShell X start live streaming automatically to the pre-setted a live platform when the unit power turns on.
With these functions, you can re-start the live streaming by plugging the AC in case of power outage.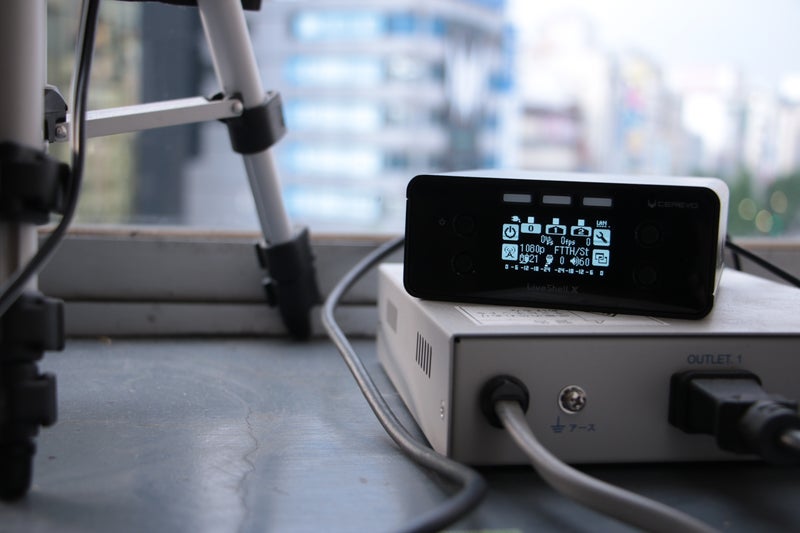 The live streaming also can be restored remotely by Dashboard, a web App which you can control the operation/setting not only is the AC adapter reinserted if something goes wrong.
YouTube Live is the only platform available for live streaming 24/7 for free. Because LiveShell X can do multicast with up to 3 simultaneous streams, the LiveShell X at Aisan Electric uses 1 channel but you might see the Akihabara Live Cam at a different platform.
LiveShell X is used for many fixed-point live cams because it is able to handle the long hours streaming with stable quality and the small body size. A simple equipment setting is another reason LiveShell X is chosen among others. LiveShell X can be a part of your key streaming configuration but also a great tool for backup for a case of emergency.
Cerevo Live Streaming Video Encoder, LiveShell X
LiveShell X enables you to stream live video and audio without a PC. Supporting H.265/H.264 live encoding at up to 1080/60p, realtime recording via microSD and multicasting with up to 3 simultaneous streams, LiveShell X also supports lower third on-screen graphics. LiveShell X is designed for stable, professional quality broadcasting.