Online event to disassemble a sports camera
Cerevo
An On-line Live Event Equipment Configuration Using LiveShell X and FlexTally to YouTube Live, Facebook Live and Zoom.
Cerevo's live streaming products have been evolving for over a decade with people seeking high-quality live streaming in more than 85 countries and areas of the world.
We recently organized an on-line event, Disassemble Cerevo Sports Camera REC-1, and  we will explain the equipment configuration using a multi-camera set up with a switcher and Cerevo LiveShell X and FlexTally streaming to YouTube, Facebook Live and Zoom simultaneously including back-up recording.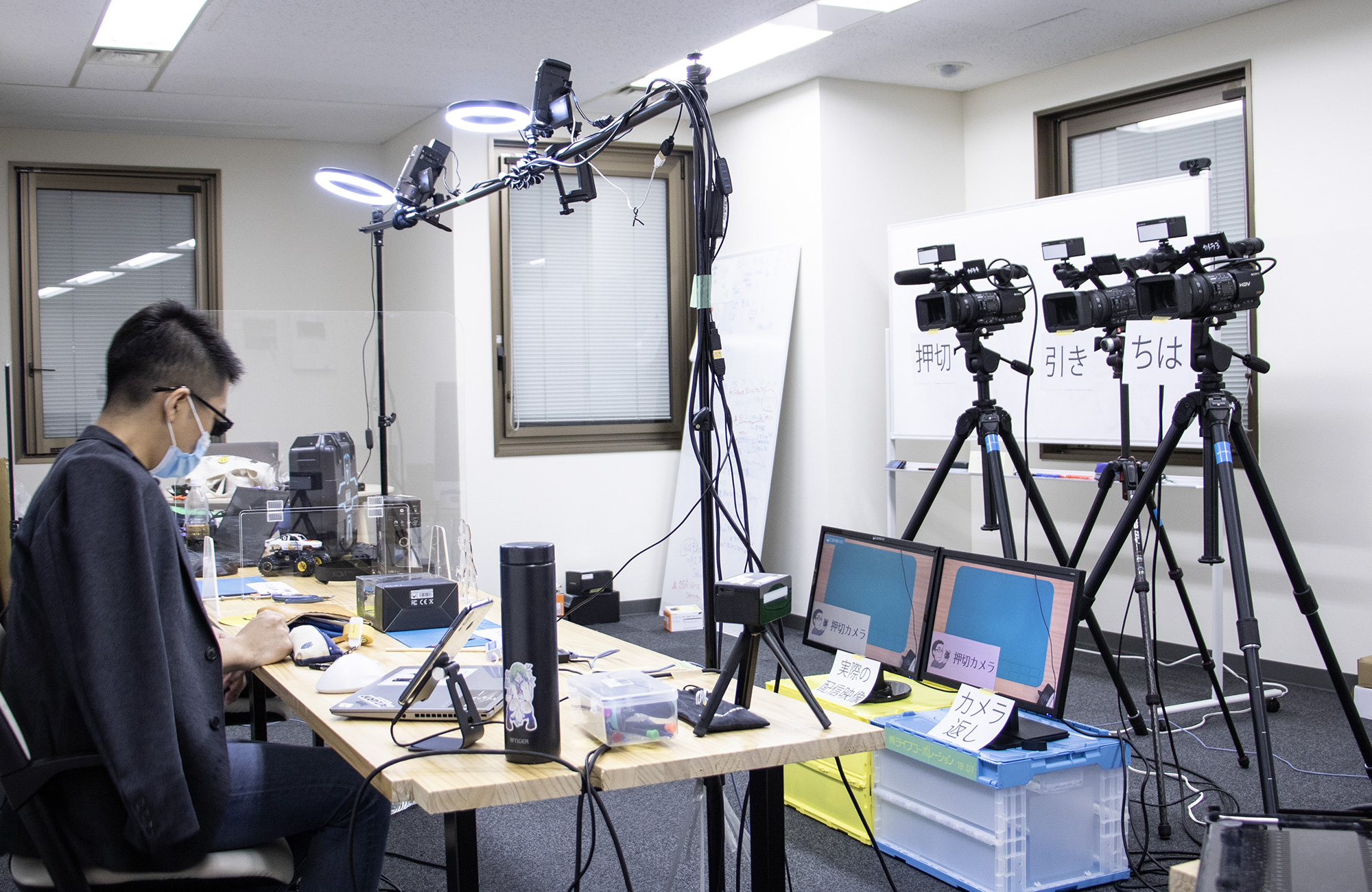 Switching cameras between two presenters playing as an instructor and a student, in close-up focusing on the table and long-shot on their headshots.
The event focused on Cerevo's outstanding electrical engineering knowledge, skills and abilities by disassembling the actual product, Cerevo REC-1, a sports camera to visualize sports activity, with Cerevo engineers. Prior to the event, we sent out REC-1 to each registered audience, and on the event day we connected the audiences and Cerevo by designated Zoom network. At the event one of the two engineers played as a facilitator/instructor and the other engineer acted as a student/audience. For this event we had used six camera shoots.
They are;
Headshot of two presenters
Headshot of the facilitator/instructor
Headshot of the student/audience
Close up view of the facilitator/instructor desk/hands
Close up view of the student/audience desk/hands
Information materials (via PC)
It is essential to switch the close up focusing of the hands in order to convey the audience "how to disassemble" in an easy-to-understand manner. In addition to the two audio, the facilitator/instructor and the student/audience, we had two additional audio for the MC and background music.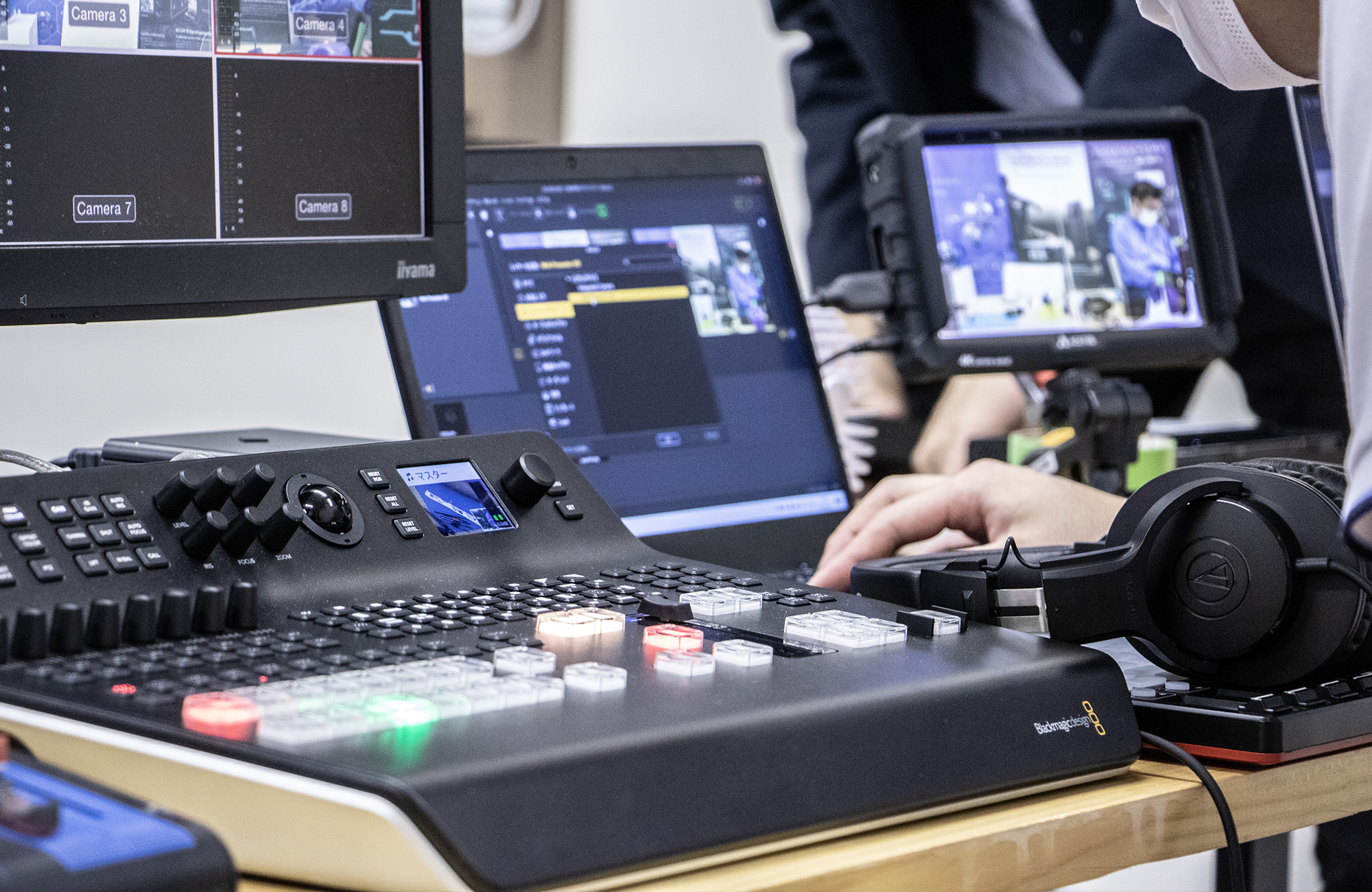 In addition to the audience-only Zoom, we maximaized one of LiveShell X features, simultaneous streaming to three different platforms. One for YouTube Live,  the second is Facebook Live and the third is to record for the backup purpose. While we communicated with the registered audiences via Zoom we were able to enjoy the moments with general audiences watching the event on YouTube and Facebook Live.
You can watch the event on Cerevo Official YouTube page.
The equipment and the configuration for the event, using 6 screens 4 audio live streaming.
The main equipment we used were 5 cameras, video switcher, audio mixer, 3 microphones, 5 LCD monitors, 3 PCs. We also used HDMI distributor, video format converter, video converter, iPod touch for BGM output.
Additionally we used Cerevo LiveShell X for simultaneous live streaming backup and streaming to multiple streaming platforms and Cerevo FlexTally, a tally lamp system.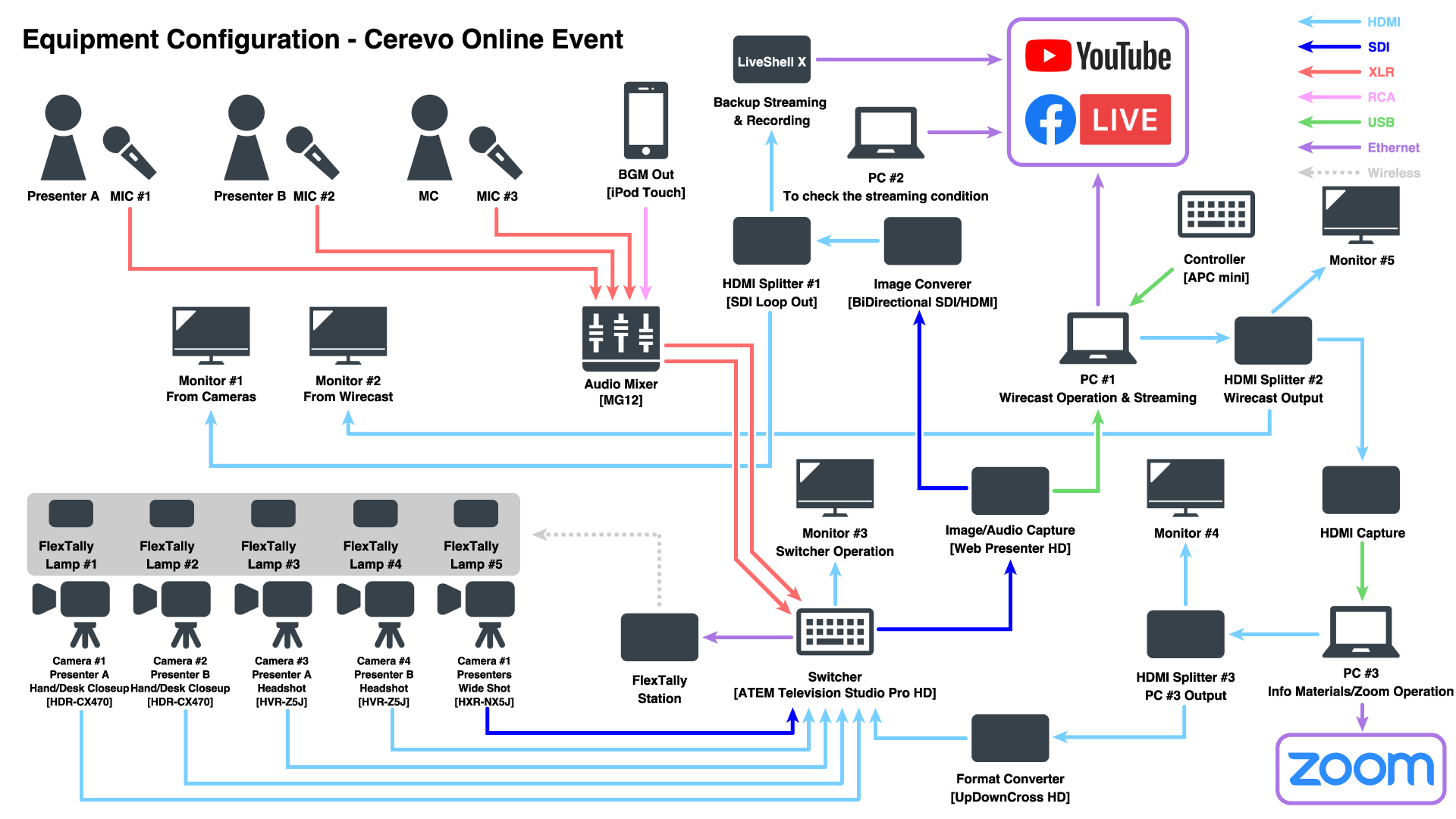 A tally light is a small signal-lamp on a video camera or monitor. It is usually located just above the camera lens or on the electronic viewfinder. It communicates, for the benefit of those in front of the camera as well as the camera operator, that the camera is 'live' – i.e. its signal is being used for the 'main program' at that moment by illuminating green means the camera is STAND BY/NOT LIVE and red means ON LIVE.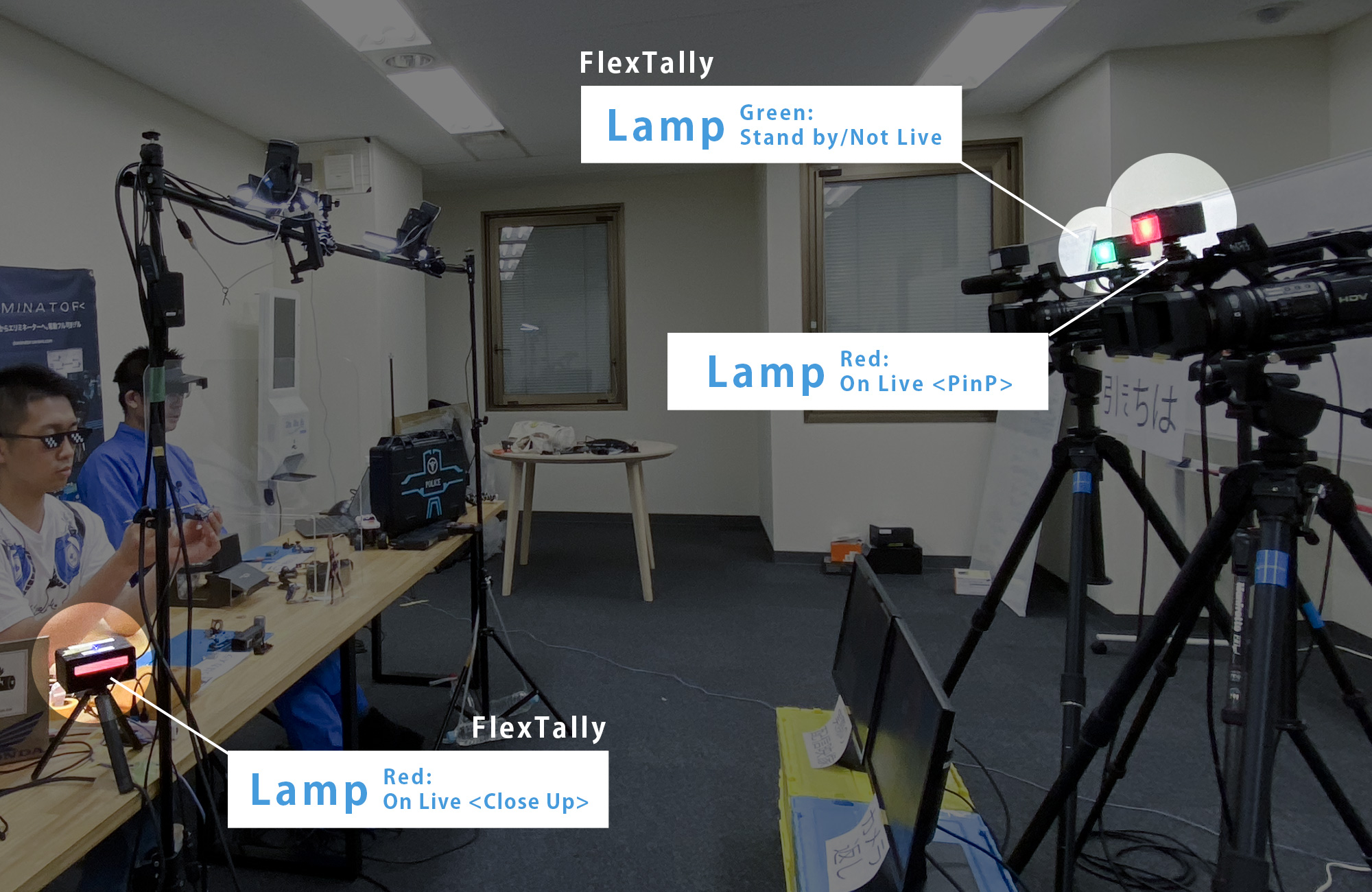 Using Cerevo FlexTally system the presenters can easily understand which camera is ON LIVE or not, whether the hands close-ups or their own headshot images are on live or off the line.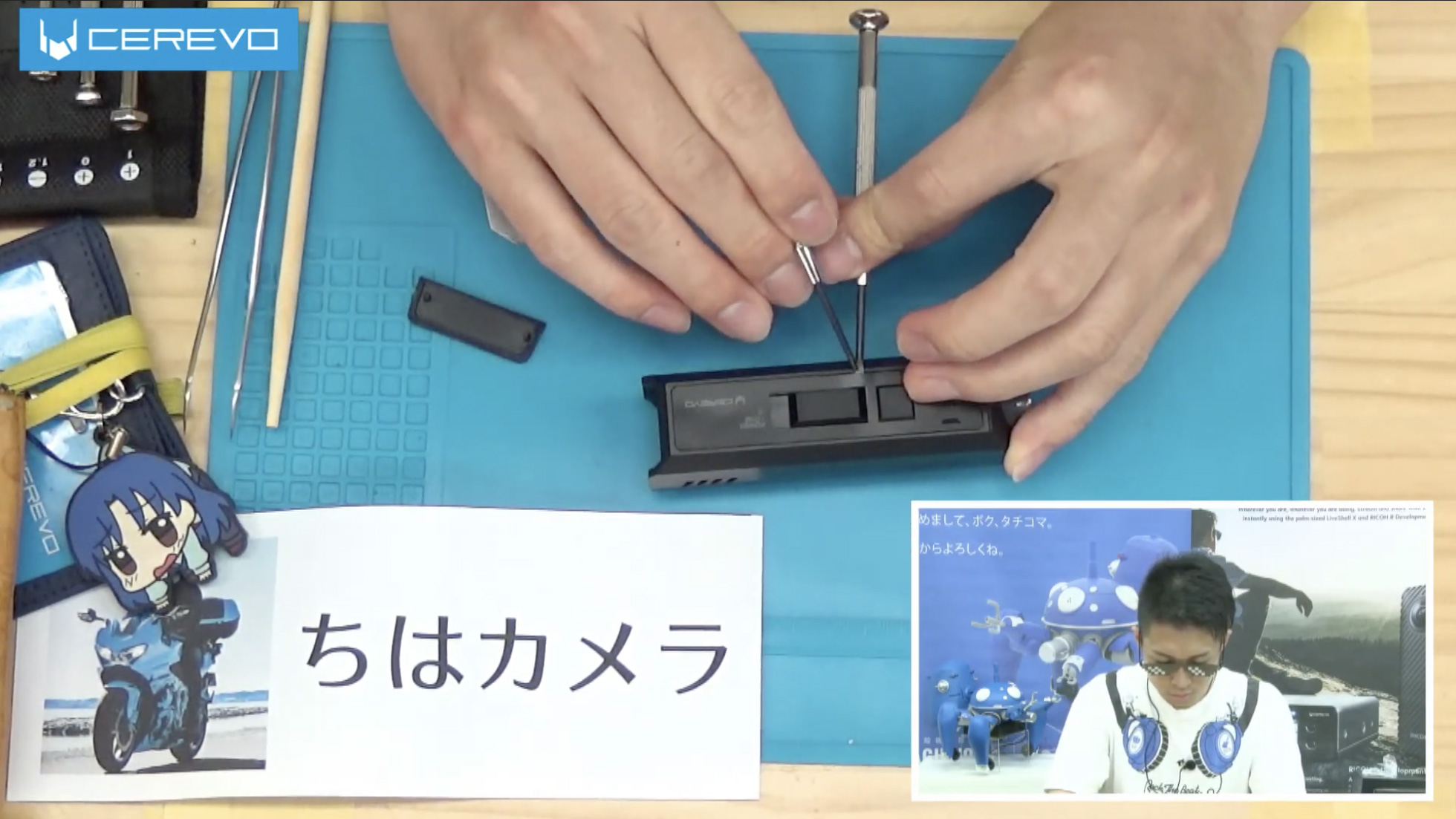 Cables tend to be complicated for live streaming using multiple cameras. With Cerevo FlexTally the lamps can be connected wirelessly between the station units and the lamps once you connect the station unit and your switcher. This is another advantage of FlexTally.
To avoid unexpected network issues during the live streaming we used the Cerevo LiveShell X for back ups because we used Wirecast software for live streaming out the event.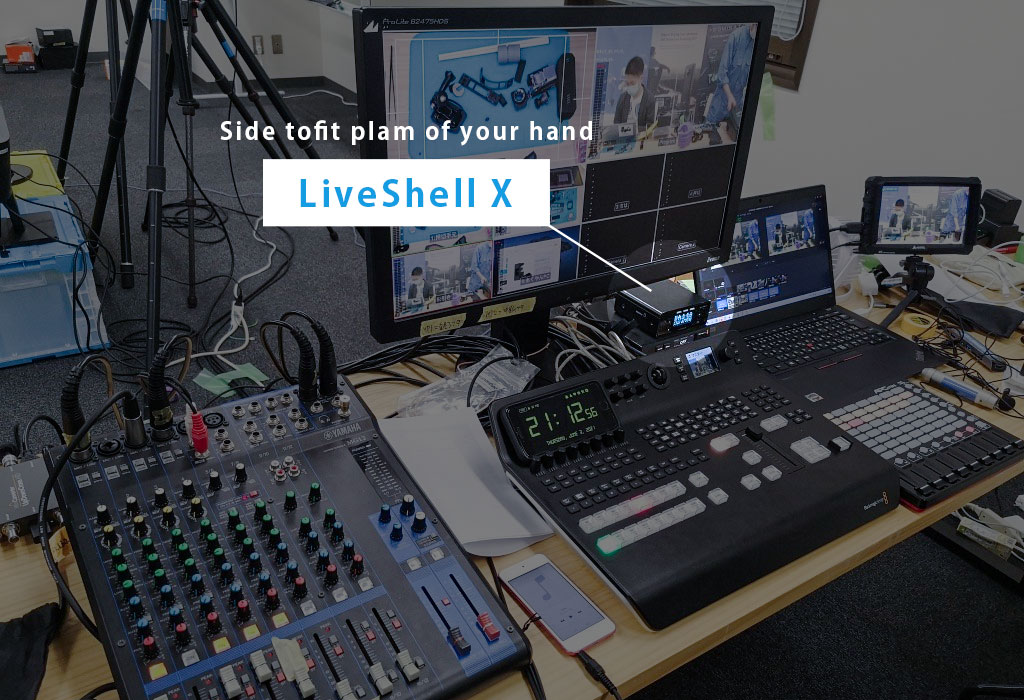 Cerevo Live Shell X is a PC-less live streaming device that enables stable streaming for a long hours. LiveShell X simple setting, to put the backup server stream keys of YouTube Live and Facebook Live backup server stream keys, can allow you to prepare and avoid any unexpected accidents such as PC freezes and stop the live streaming. This is another excellent way to maximize LiveShell X features for an important online event.
Of course you can do live streaming just using LiveShell X and a regular PC for Zoom if you don't have a high-spec computer to handle multi-streaming or using Wirecast.
Cerevo Live Streaming Video Encoder, LiveShell X
LiveShell X enables you to stream live video and audio without a PC. Supporting H.265/H.264 live encoding at up to 1080/60p, realtime recording via microSD and multicasting with up to 3 simultaneous streams, LiveShell X also supports lower third on-screen graphics. LiveShell X is designed for stable, professional quality broadcasting.